Flangeless ArmorTech Outperforms Lined Steel in Sulfuric Acid Service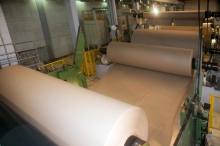 OVERVIEW
Pulp and paper plant operators must consider all methods to reduce costs while still meeting piping and processing requirements. In the routine handling of methanol, ammonia, hydrochloric acid, sulfuric acid and other compounds, the key is to find new or improved corrosion-resistant materials capable of lowering overall costs and maintenance while still providing long-term service and safety.
At a large plant in south central Arkansas, operators were experiencing persistent exterior corrosion on its PTFE-lined steel piping system for handling 93-98% sulfuric acid (H2SO4), in particular around their flanged valve connections.  We worked with a Reliability Engineer hired by the plant owners to identify a solution to their external corrosion problems and high maintenance costs.  
After a system analysis and consultation with Simtech's experts, the Reliability Engineer recommended replacing the lined steel pipe with ArmorTech Kynar®740 PVDF dual laminate piping installed using butt fusion. They also replaced the lined steel valves with Simtech Z-Tech severe chemical service valves in PVDF which were also butt-fused into the system. The removal of steel and flanged joints from these process lines immediately stopped the exterior corrosion problem. Our flangeless butt-fusion system also eliminated the potential leak points associated with mechanical connections, lowered maintenance costs and more than doubled the expected service life of the system.  
CUSTOMER / LOCATION
Pulp & Paper Manufacturer, Central Arkansas
INDUSTRY & APPLICATION
PRODUCT SPECIFIED / SERVICES